2018 Grass Tour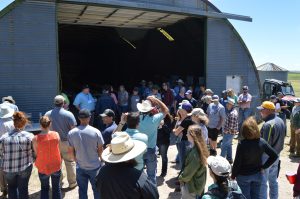 Our Grass Tour was held on June 20th and 21st in northern CO.  Thanks to the help of Society for Range Management, Jordan Angus, our speakers and our assistants, it was a huge success. We covered two very interesting and popular topics this year, range management and water practices.
The first day was spent in Briggsdale CO at Jordan Angus, where guests learned about range management and saw first hand different range practices. With many guest speakers we were able to hear how wildlife and birds are affected, explore two different soil pits, see a rainfall demonstration, and mingle with experts in the field. It was a eventful and busy day. Following the day in Briggsdale we came back to the Houston Gardens for a BBQ social provided by the West Greeley Conservation District. We relaxed and enjoyed each other's company after a great day!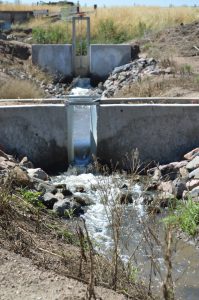 Day two was all about water! Starting the day off we enjoyed the great views of the Rockies Retreat Suite at the DoubleTree in downtown Greeley. Once we were loaded on the bus, we went to a farm that has been changed from agriculture use to industrial use. Randy Knutson shared with us the practices that are used on the land now, explained recharge ponds, as well as the process of using the water for the credits that are now used for oil and gas. Then we were able to tour and learn more about the facility that uses the water from the property, which was very cool!
We enjoyed a great lunch at the Josephine B Jones park in Greeley, and then headed out for more water fun. The afternoon portion showed the agricultural side of water with great speakers. Farmers Dave Petrocco SR and Tim Brown spoke, Ralph Anders from Central Colorado Water Conservancy District, and Dale Trowbridge from Cache La Poudre Reservoir Company also presented. They shared the farmers view of water, how the water gets where it is supposed to go, how they monitor the usage, as well as what they think the future of water looks like for agriculture.
It was a great time, and we look forward to planning the next one! Hope to see you on it!