The Man Behind it All
The Man Behind It All
Pawnee Buttes Seed Inc. is turning 20 years old this August. That would not be possible if it wasn't for the man behind it all, Don Hijar. Born and raised in Sugar City, CO on his families irrigated sugar beet farm, agriculture has always been a part of his life. Don grew up helping his family on the farm. After high school Don then went to Lamar Junior College and finished his schooling at Colorado State University with a degree in Animal Science.
After college he worked for the Natural Resource Conservation Service for seven and a half years. It was not until 1984 that Don started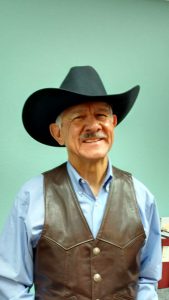 working in the seed industry. Don was instrumental to the growth and success of two seed companies. Finally, in August of 1998 Pawnee Buttes Seed Inc. came to life.
Don is a true business man and has experienced it all! From keeping track of the seed inventory on index cards, hand writing all the orders, going out in the fields, testing out different computer programs as they were created, buying seed, traveling to many different locations, and so much more! He has built a company with his knowledge through all the ups and downs, becoming a successful, respected man.
The thing is, Don is way more than a business man, he is an all-around wonderful man. When asking the team here at PBSI how they would describe him, there was a common answer from everyone. Don is a brilliant, caring, incredibly smart man who is a book of knowledge. He genuinely cares about each individual client and the project they are working on. Don himself has said multiple times "I don't just sell seed, I strive to provide an experience for each customer where they get the most knowledge I can share with them." Don did not start Pawnee Buttes Seed Inc. for the money or "fame" he started it to educate, share, and help people! It is more than just a business, it is a passion.
It's not always all business either! Don keeps us all laughing in the office with his jokes and whit. He tells amazing stories that make you feel like you are right there watching it happen. Don is determined and stubborn when he needs to be but would drop anything to be there for someone who needed it.
Don Hijar is "a dying breed" and I can say I am truly blessed to have the opportunity to work with him, listen to his stories, learn from him, but mostly just to know him!
Becca Peter, Marketing Specialist